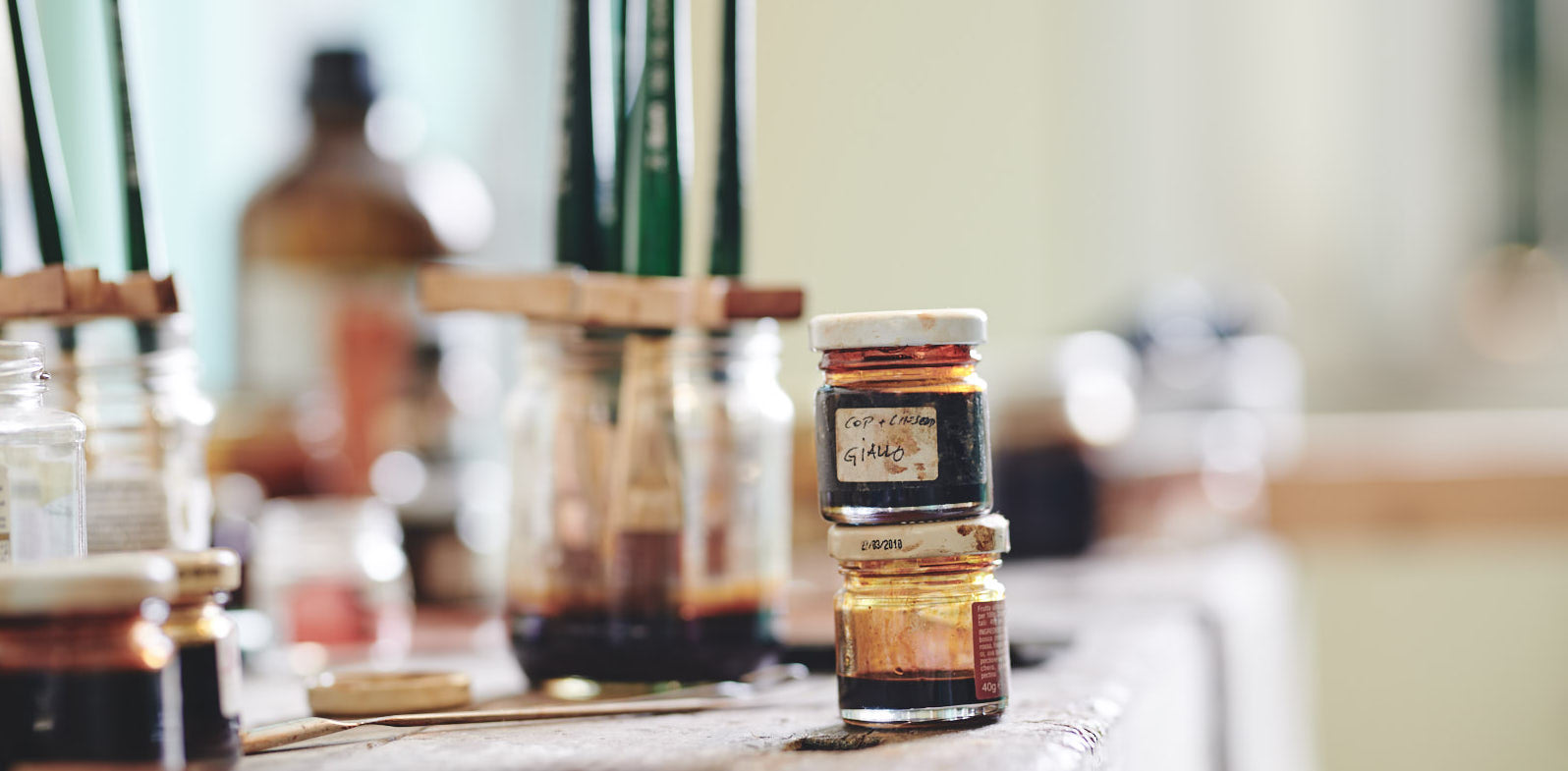 Preparing the Oil for the Oil Varnish
Today we will talk about the steps to prepare our oil varnish. To prepare it you can use di7erent types of oil, the most important detail is that the oil is not saturated: this means it's still going to make a chemical reaction and be combined with other particles.
As for the kind of oil, linseed oil, walnut oil, olive oil are all good, do not use castrol. The linseed oil is perfect for violinmaking. Tung oil is very transparent: it would be the perfect candidate, but compared to linseed oil is very unstable and that's why it is not used in violinmaking.
You can buy linseed oil in every home depot. At Stradivari's time they all used this kind of varnish because it was the easiest to And and to obtain.
The linseed oil can be "crudo", raw, or "cotto", cooked. If you want to have the whole experience and the maximum control on your varnish then you shout take it raw and cook it yourself. Personally I think is a very nice experience and I could never imagine going somewhere to buy my cooked varnish.
If you are not as lucky as me and you live in a place where you cannot cook your own varnish then you should probably either drive very very far away or settle for a store bought varnish.
I will try to give the whole experience via YouTube:
Before I started making my own oil varnish I only heard "horror stories" about it: it is a very dangerous and complicated process.
One small note: oil varnish doesn't dry out, it doesn't evaporate. There is a chemical process because of the oil and that is caused by oxygen and warmth (in a warm environment the process is quicker).
This speciAc process is called: polymerization. It takes exactly 12 years to Anish. After that time you can not tell the di7erence between oil and spirit varnish even on a chemical point of view.
For all or you that say "I don't like oil varnish because it takes too long", I understand and you are correct in saying so.
Also, after 12 years, the index of infraction of the light turns to be 1, that means that the varnish is going to be transparent as glass.
Before using your store bough oil, you have to probably treat it with some water. This process is called "washing" the oil, and its purpose is to take out the glycerin. If your varnish doesn't polymerize is probably because you didn't wash your main ingredient. To wash the oil you have to get a small plastic bottle of water and drink half of it. Then you pour some of your oil inside, which going to stay on top of the water. You have to shake it for some minutes and you will see your water getting "dirty", it's time to leave the bottle in the sun to get warm. At that point the varnish will be still on top of the water but the water will be white: that means that is full with glycerin and you have to continue washing the oil.
I would suggest to do it repeatedly until the water is transparent. At every "shake" you need a new bottle of water.. so don't trash you plastic bottles!Once this is done you have clean oil you can make your varnish out of.
If it seems too much work there are some products that make your life easier:
Lefranc & Bourgeois – I love their products, they are quite expensive but worth the money. In every case I would read very carefully the label and make sure the oil is already being washed. Look out for the words "washed", "puriAcato" or "puriAed", that means it has been washed.
Kremer Pigmente – they have a lot of products and descriptions. You can buy cooked linseed oil.
If your varnish doesn't dry, try to wash it and let me know if it works! I hope you like these details,
Greetings,
Edgar Russ

MondoMusica
Dear Friends, welcome to the second day of MondoMusica 2020! Today I am taking you for a walk in the main streets of Cremona, and ?nally stopping in Piazza Duomo for breakfast. Then we will hav...
Read more