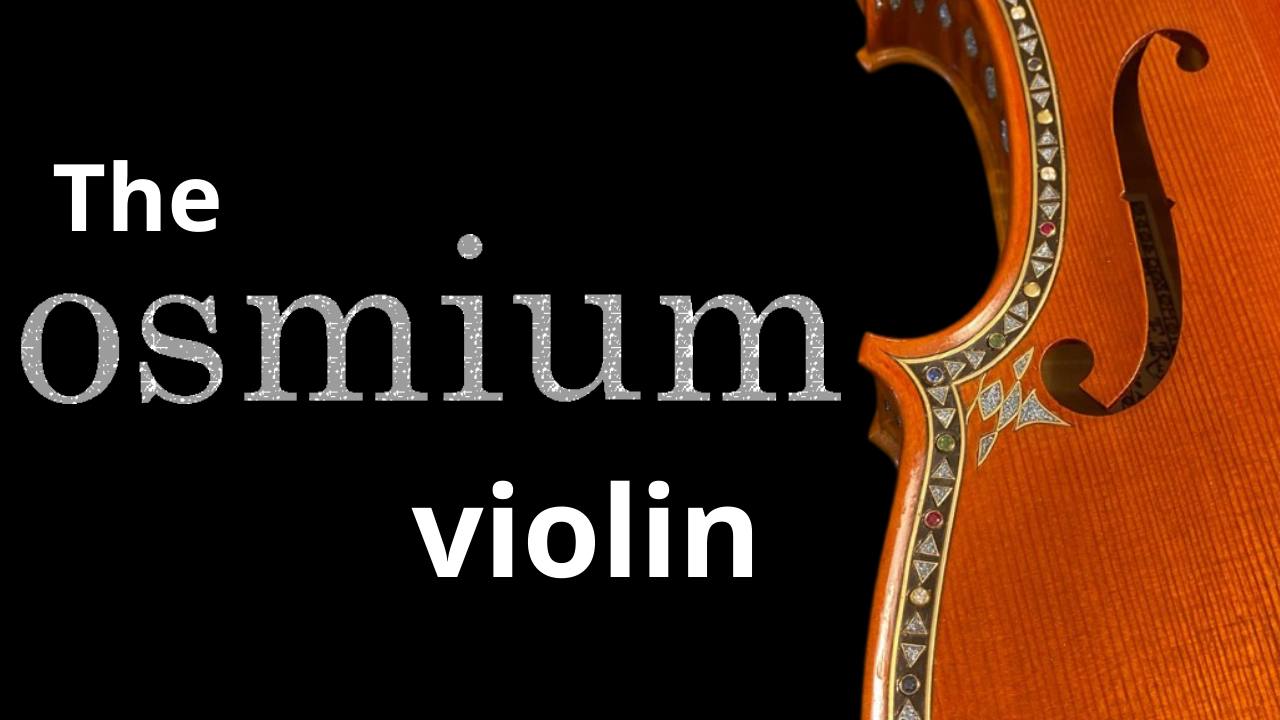 The Osmium Violin: a breathtaking Masterpiece of Craftsmanship and Luxury
Dear Friends,
The big project I have been working on for more than two years now is finally here. Let me introduce to you
This hand-made violin is unique and special because it is adorned with the most finest and precious stones of the world.
In particular, it is decorated with 541 pieces of custom-made crystalline Osmium which are set in 18K gold inlays. Furthermore, there are 298 pieces of diamonds, rubies, sapphires and tsavorites which make this violin an extraordinary piece of art. 
Have a look at my Youtube Channel to watch the Osmium Violin in real life
The origin of the Osmium Violin is the result of three lives.
It is made by three entrepreneurs coming from three different fields: Charly Grosschädl, Kurt Assam and me, Master Edgar Russ.

But let's start from the beginning..
The idea to create a decorated violin with Osmium has been launched by Charly Grosschädl. Charly's friend, Kurt Assam, owner of the company Osmium Art, wanted initially to decorate a musical instrument such as a guitar and discussed his idea with Charly, who immediately thought of me.

Charly, a very good high school friend of mine, knew that I am able to build a decorated violin, so he planned a summer vacation in Cremona to visit me.
During his Cremona visit he admired the pictures exposed in my workshop of the violin which I created back in 2012 for the Sultan of Oman, His Royalty Bin Said Quaboos. Charly immediately connected the dots between Kurt's Osmium Art and my craftsmanship and we started to talk about this one-of-a-kind project!
During the creation of the Osmium Violin I realized that my mind, beside of creating an outstanding instrument, created as well borders which I didn't dare to pass. Thanks to my past, where I had the possibility to create different and several decorated instruments, proved my confidence and my solid fundaments.
The Osmium Violin around the world
The world premiere of this extraordinary violin is planned for the 30th of March in Wien (Austria).  

The next appointments are the following:
Vaduz (Liechtenstein), 4th of April

Slovenia

Cremona (Italy), September 2023

Adu Dhabi (united Arab Emirates)
Other destinations are in planning, such as New York, Melbourne, Tokyo, Berlin, Hamburg and many others. 
The future of "The Osmium Violin"
There are further projects regarding the so called "Osmium Art Quartet". In particular, we are already planning the following string instruments: the Osmium Violin 2.0, the Osmium Cello, the Osmium Viola.
My passion for decorated instruments
My career as a Master Violinmaker started since I began to build instruments at the age of 15 years and it took off as soon as I moved to Cremona at the age of 17 to study at the International "A. Stradivari" violinmaking school. Already during my school years I always felt an incredible attraction to every kind of decorated instruments.

From the very beginning of my violinmaking career, I have always been extremely excited when I saw antique decorated instruments. My astonishment was such, that my thoughts went back to those past days, asking myself who commissioned such outstanding instruments. At the same time I knew exactly that that kind of instruments had been made exclusively by makers who themselves where privileged enough because of their outstanding craftsmanship and ability to create masterpieces for privileged customers.
Decorated instruments by me, Master Edgar Russ
Over the years this passion got into reality: I was able to create myself several decorated instruments. I was always inspired by the Great Masters of the Past coming from Cremona and active centuries ago. Amati as well as Stradivari showed me the direction. Every time I am carving the decorations I feel peace and longevity, following their extraordinary examples.
In 1987, during my first years of violinmaking school I made my very first decorated violin and since then I never stopped. During the years I created several copies of the famous decorated violin of Antonio Stradivari "Hellier". Several years later, in spring of 2011 I received an email from the Chamber of Commerce of Cremona, which asked all Cremonese violinmakers to submit their best offer to create a decorated violin with precious materials within 7 days. From that very moment my creativity became unstoppable. I immediately started to work on my offer, which became the most precious violin ever being made up to that point. My offer was then chosen and I was able to create The Decorated violin for the Sultan of Oman, Bin Said Quaboos. The personal violin of his Majesty had been decorated by me with 427 diamonds, 70 rubies, 70 tsavorites, mother of pearl and more than 100 grams of 18K gold. 
Write me an email and let's talk about the precious Instrument I could create for you: edgar@eruss.it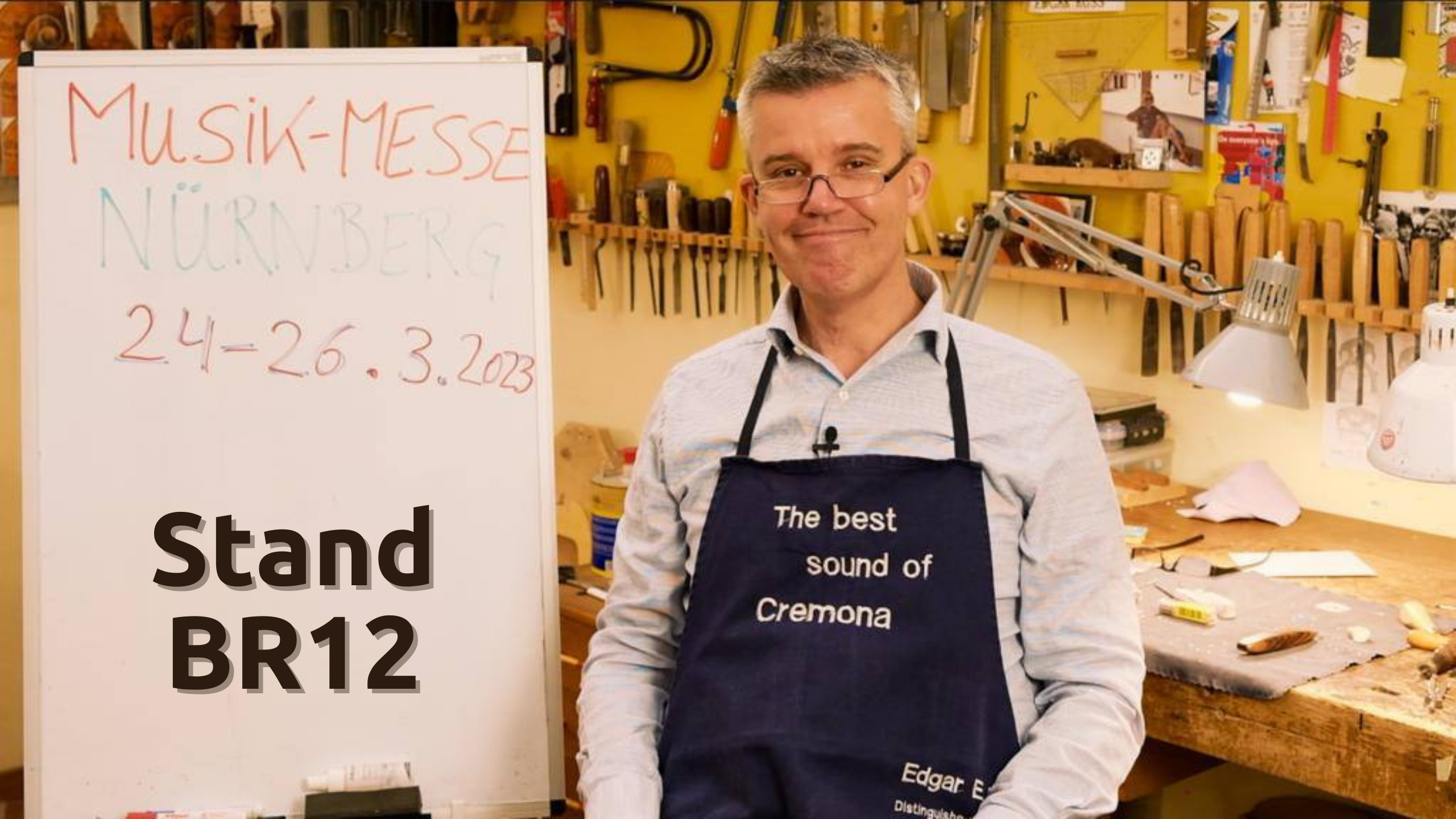 Let's meet @MusikMesse Nürnberg 2023
It has already been some years since I took part in a Music Trade show, so I decided to participate in the "Musik messe Nürnberg" from the 24th to the 26th of March 2023. My stand will be the BR12,...
Read more