Cello - Scala Perfetta, Stradivari, Cremona 2023
Book a call, if you want to talk about this instrument with Edgar, or fill the form at the end of the page.
This Scala Perfetta cello is a European product. It is made following Edgar's instruction after a over 20 year collaboration with a German violin workshop. Once the cello is made in the white here in Cremona in Edgar's workshop it is adjusted, finished and varnished.
Generally about this line of Instruments:
This line of instruments is designed for a musicians who are looking for a good European instrument at an accessible price.
Every instrument is carefully checked and sound adjusted by Master Edgar E. Russ:
"This is the result of many years to offer a great sounding instrument for a reasonable price. My main focus on this line is that it is easy to play, balanced across all four strings, and that it has a powerful sound. I want you to play on a great sounding instrument!"
Choose options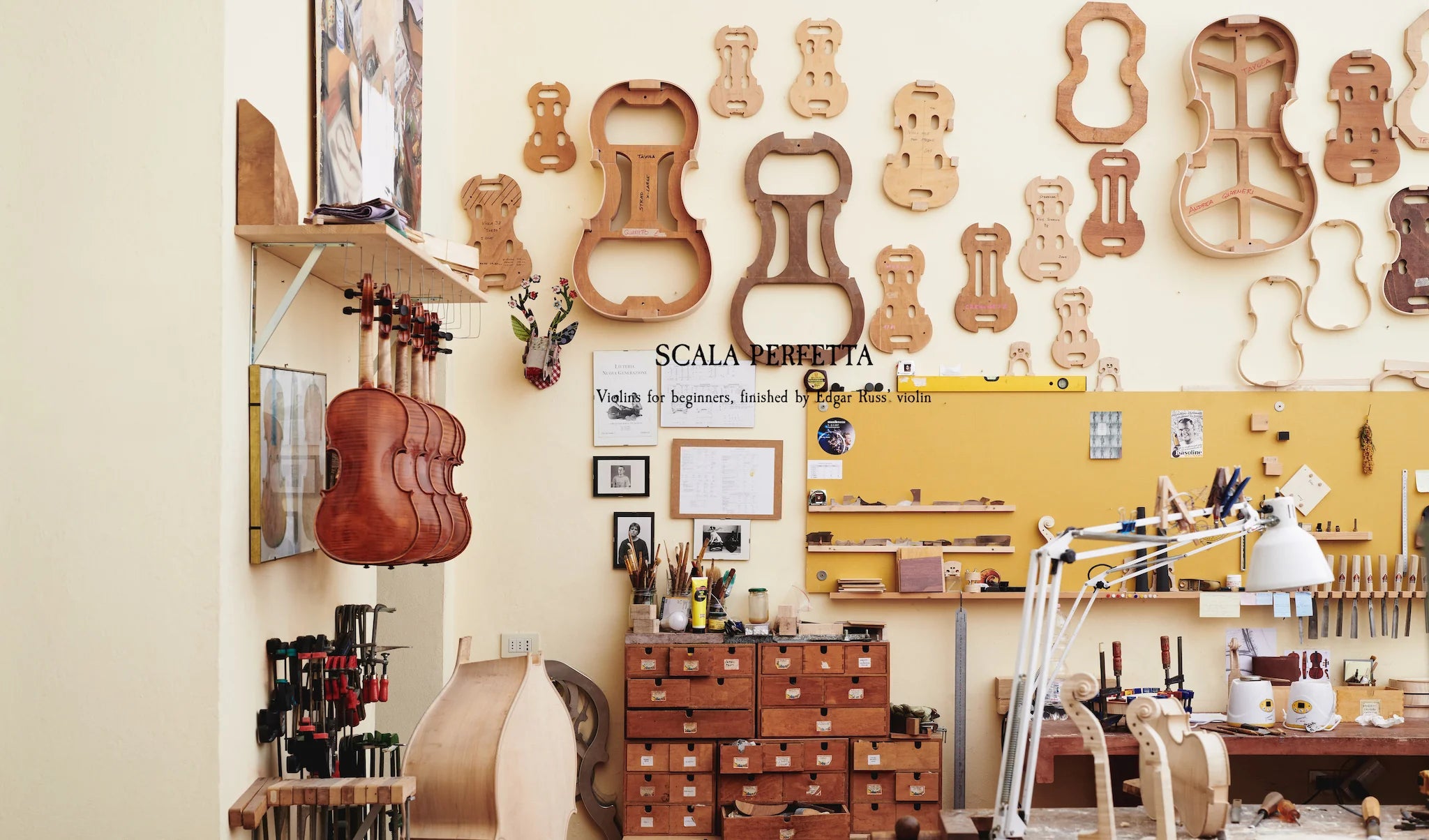 HOW IT'S MADE 
SCALA PERFETTA
Master Edgar Russ partners with European workshops to create affordable and high-quality string instruments. Each violin, viola, cello, or double bass undergoes detailed inspections, refinements, varnishing, and precise setup.
The finishing process remains similar to the one used for Master Instruments, despite the difference in materials. Our workshop team devotes meticulous attention in order to deliver an instrument that is beginner-friendly and also suitable as a second/travel option.
Need help?
Frequently Asked Questions
Order
Yes, we ship all over the world. Shipping costs will apply, and will be added at checkout. We run discounts and promotions all year, so stay tuned for exclusive deals.
It depends on where you are. Orders processed here will take 5-7 business days to arrive. Overseas deliveries can take anywhere from 7-16 days. Delivery details will be provided in your confirmation email.
Yes, the Instrument you are choosing here in the webshop is exactly the one you will receive.All instruments I offer here on my webshop are physically existing and available here in my workshop in Cremona, Italy.
You can contact us through our contact page! We will be happy to assist you.
duty & tax
Each country has its own import tax and duty policies. Non-EU residents should note that the price does not include VAT. Once the product reaches your country, customs will notify you to pay the necessary duty and tax for importing.
Book a call
If you are interested in discussing our creation with Edgar, please leave your contact number and he will reach out to you
custom made
Every instrument can be customized in any possible way: inlays, engraving, initials, coat of arms, decorations with ebony or mother of pearl, gold leaf, gold, silver or precious stones.
Eu duty fee included
Eu duty fee included The European Union duty fee is already factored into the price of this product.